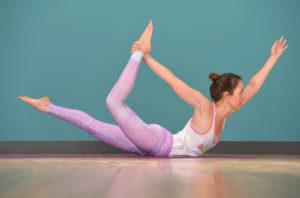 There's no denying Yoga's transformative and balancing power.
Yogis have been singing the praises of Yoga for thousands of years.
More recently, modern medicine also began proclaiming the perks of a regular Yoga practice.
Apart from the growing evidence, through an abundance of objective research
that a regular Yoga practice can provide a wide range of mental, physical and emotional benefits, we each have our own subjective experience when we practice Yoga. This experience has been described as transformational, enlightening, peaceful, exhilarating, uplifting, and balancing, just to name a few. Although the benefits of a regular, consistent practice accumulate over time, a shift can also happen instantly.
The key to this shift is the breath. Simply stop and take a few deep conscious breaths that move through your whole body, and follow the tangible shift: from a state of doing to a state of being, a shift towards embracing ourselves with awareness and acceptance.   This simple, yet profound practice is usually accompanied by a reduction in perceived stress.
This class will provide you with a few simple, skill-building exercises that you can take home. It is designed to promote a "shift" – towards awakening felt perception and towards engaging in a deeper connection with ourself. This involves traveling with your body, from breath to breath, and listening to your mind and body's subtle communication. Arrive in your heart through Kirtan, and arrive in your body through juicy, satisfying stretches, slow, fluid asanas and slow, fluid breathing – with plenty of room to relax. Inspiration will spring up and a sense of peace will set in. After polishing our inner glow, we'll take a deep, gratifying breath and leave with a sparkle in our eyes a bounce in our step.